What will happen to our lifestyles?
The theme of the Innovative City Forum is about our future selves.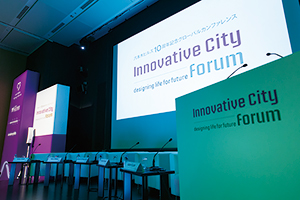 The world's population continues to increase and concentrate in cities. As the speed of urbanization accelerates, the aging of urban residents has become an important issue in some cities. Meanwhile, the progress in science and technology is constantly offering us new lifestyles and changing our values. The future of our life will be not only affected by science and technology but also by art and design. They will enrich our natural and urban environment and shape the way we live and work.

Is it not up to us, each of us, to meet the challenge and succeed at designing our own futures ourselves? Is it not an urgent issue for humanity to redesign our cities? With this common understanding, the Innovative City Forum brings together opinion leaders from around the world to participate in a dialogue on the future of cities.
City bacterial maps will appear in the Leading-Edge Technologies Sessions.
"Progress in the field of biotechnology brings us further changes than the Internet." MIT Media Lab Director Joichi Ito has been paying attention to the progress of biotechnology among leading-edge technologies. Various elements are intertwined in cities. City bacterial maps are beginning to create a new sense of values.
Two dialogues looking at the future of Tokyo
Amid the global competition among cities, Tokyo is expected to grow more and more. How will it be possible to build a city that is open to the world, while enhancing its own attractiveness and bustle?
For the Urban Development Session, sociologists, urban planners, and architects will be invited from London, New York, and Tokyo to discuss the future of urban development and management.
Redefinition of Design
The word "design" has come to be used in various scenes. What exactly is design? What is happening in the field of design right now? During the Art & Creativity session and The Japan Foundation Asia Center session, experts of leading-edge technologies and leading designers will gather in an attempt to redefine design, while touching on leading edges of design, architecture, and art in the world.
Overview
Dates

October 14 [Wed.]–16 [ Fri.], 2015

Venue

Roppongi Academy Hills (Roppongi Hills Mori Tower 49F)

Hosted by

Institute for Urban Strategies - The Mori Memorial Foundation, Mori Art Museum, Academyhills

Co-hosted by

The Japan Foundation Asia Center, MIT Media Lab

Supported by

The World Economic Forum, British Council, International House of Japan, WIRED, Loftwork Inc.

Admission fee

¥5,000 (incl. tax) per day
The Japan Foundation Asia Center sessions: ¥1,000 (incl. tax) each

How to make a registration

Please check "Registration" on menu bar.

Capacity

A total of 3,300 in 3days

Language

Japanese-English simultaneous interpretation provided.